UTOPIA Fiber: How Fast are 10 Gig Speeds?
September 17th, 2020
The future of the Internet is already here. UTOPIA Fiber offers 10 Gig speeds, the fastest broadband speeds in the nation, to 15 cities throughout Utah. Five of our Internet service providers currently offer 10 Gigs, but we anticipate more providers offering this in the near future. So, here's the deal with 10 Gig speeds.
Speed
How fast is 10 Gbps? With 10 Gigs, you can download a 4K movie in less than 30 seconds or stream around 1,700 movies simultaneously. To put it into context, the average broadband speed in America is 94 Mbps. 1 Gbps (Gigabit per second) = 1000 Mbps (Megabits per second), so 10 Gbps = 10,000 Mbps. For those of you keeping score at home, that means that 10 Gig speeds are 9,400% faster than the average Internet speed in America.
Fun Fact: According to NCTA, there has been a 12,400% increase in the top available internet speeds in the last ten years.
Cost
UTOPIA Fiber's connection cost is always $30/month, no matter which speed you pick. Our Internet service providers offer 10 Gigs for $170-$250/month. That means that the all-in cost for the nation's fasted Internet could be as low as $200. You can find our pricing options on our residential pricing page.
How to set up 10 Gig residential speeds
The basic home router setup requires you to have the port plugged into the UTOPIA Fiber network set up for DHCP (this stands for Dynamic Host Configuration Protocol). A second interface on a port facing the customer's devices should be configured using 192.168.0.1/24 as the router interface. NAT should be used to connect home devices. For a detailed template on how to configure your 10 Gig connection, click here.
10 Gig Speed Test
To get proper 10 Gig Speedtest results, you will need a connection and device that are capable of handling those speeds. A few examples of computers that can handle 10 Gig speeds are the Apple Mac-mini (10 Gig option), the Apple iMac Pro (10 Gig standard). ASUS has also come out with a consumer router with dual 10 Gig ports. You can purchase this router on Amazon here. Below is an example of what a 10 Gig speed test should look like. For more information on speed tests, visit our troubleshooting page.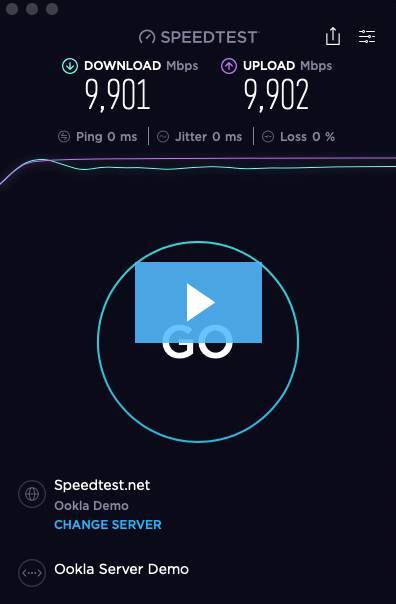 Required Equipment
In order to connect to the UTOPIA Fiber network with a 10 Gig connection, you will need the following:
An OM3 or OM4 grade Multimode Duplex LC Jumper to connect between your equipment and our switch.

This can be purchased here ($8).
An OM3/4 cable will typically have an aqua-colored jacket. OM1 grade jumpers can't be used for the connection. OM1 jumpers typically have an orange-colored jacket.

A 10 Gig Base-SR optic for your equipment.
A switch/router capable of accepting a 10 Gig connection.
The ability to sign up for the fastest Internet speeds in the nation is in your hands. Sign up for 10 Gig speeds with UTOPIA Fiber today. Check out our 10 Gig Info page for more information, and don't be a stranger; reach out to us if you have any questions. We'd love to chat with you.