UTOPIA Is Moving Ahead
August 3rd, 2012
The news is interesting. One thing to always keep in mind with the news is that they are in the business of attracting eyeballs. "Good news" doesn't always do the trick. Both sides of the story rarely get the same traction. Good thing we have this blog to get our message out.
Today, UTOPIA is moving ahead. The Legislative Audit on Wednesday didn't tell us anything we didn't already know. It didn't reveal gross negligence. We know our pioneering effort to bring fiber infrastructure to Utah cities hasn't been a smooth ride. We're blazing a trail here. Remember the old Atari game Pitfall?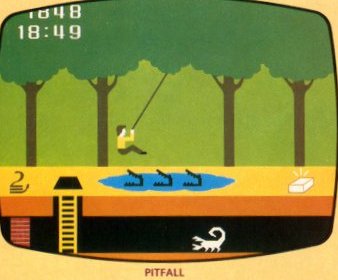 What's important is that our member cities are fully committed to making the network a success. Not that the press reports would necessarily make that clear. One Tweet after the proceeding read, "Just left UTOPIA leg. audit. Cities' basic message: we're stuck w/ bond so we're sticking with it." They must have been in a different meeting. Mayor Ronald Russell of Centerville addressed the subcommittee and was glowing in his support for UTOPIA and what it's done for him personally as well as the residents and businesses of Centerville. His remarks didn't make the news. Why not?
In the absence of balanced coverage in the local media, it's nice to have support from advocates of municipal broadband, and our own circle of Facbook friends. Just yesterday, we had these comments on our page:
"I'd like you guys better if you could figure out how to get some co-operation out of SL County and wire up the unincorporated parts. Save us from [ISP] please!!!"
"I agree. I have been having a lot of trouble with [ISP] lately, my connection has been going in and out, and they won't do anything just say that is normal for it to go in and out every few days. I told them I am pretty much ready to cancel…. and all they say is QUOTE: " What do you want me to do "/ end quote. so [forget] [ISP]. I'm going to search for all info for reasons to get UTOPIA into West Jordan, whoever wants to sign a petition, contact me. :)"
"I love Utopia!"
"[ISP] is a money pit!"
"I was at the City Council meeting in Layton when they voted for Utopia. It was good to see them vote for something that government could do right. Reminded me of when the Internet was ARPANET."
And also this Tweet on Wednesday, "This network was signed for, provisioned, and installed all within 48 hours thanks to Utopia Fiber. How cool"
Jesse Harris of FreeUTOPIA has some insights that you won't find in the Tribune, as does Community Broadband Networks. We love the latter's contention that, "The report should have also included a recommendation to the Utah State Legislature – to remove state barriers and let local communities decide for themselves if they need, want, and can invest in broadband. Perhaps if UTOPIA was not restricted from day one, this report would not exist today."
We don't want to make excuses, but the fact is there have been plenty of roadblocks in UTOPIA's way (and, yes, as we readily admit, the mistakes in the early days don't help either).
This is what so many don't seem to understand: the way forward, the way to make UTOPIA work and reduce the burden on individual taxpayers in our member cities it to complete the network and drive up the subscriber base. If cities pull out, they still owe money. That makes moving forward the only way forward. The Utah Taxpayer's Association, the legislature, the media, etc., should be doing all they can to help get the network done. But that's naïve, right?
Certain parties (i.e., "incumbents") don't want UTOPIA to succeed and are pulling levers to achieve that. As the Community Broadband Networks article mentions, "The auditors gloss over efforts by the incumbents to deliberately disrupt UTOPIA. For instance, Qwest dedicated its significant might to preventing UTOPIA was access poles [sic] that it had a right to use."
In a lengthy report, Christopher Mitchell of Community Broadband Networks outlines the legal challenges three fiber networks faced in their efforts to build. The fact is, incumbents will fiercely protect their turf. That's business, especially in America. One article from Australia, which discusses Google's disruptive fiber effort in Kansas City, states,
The US telecoms market is the most incumbent-captive market in the western world. There is no other country where the incumbent telcos and cable companies have such power. These incumbents have been able to influence the fine-tuning of the regulatory system in their country totally to their own advantage. There is hardly anybody apart from the incumbents with a good understanding of the ins and outs of the regulatory system, and this enables these players to game the system to the maximum extent. […]
On top of that, hundreds of millions of dollars are spent by the incumbents to lobby the senators and congressmen and over the years this system has been turned into a well-oiled machine, so successful that hardly any politicians want to stand up to the monopolistic powers of the industry— and this applies equally to both political parties.
But, all that really matters is that UTOPIA is moving ahead, with better controls, better plans, better build-out strategies. Old news is in the past.