Rapidly-Growing UTOPIA Fiber Announces Two New City Partnerships and Expands into Southern Utah
January 5th, 2022
Company to Build High-Speed Fiber Network in Cedar Hills and Santa Clara, Utah, the 18th and 19th Fiber-to-the-Home Cities in the UTOPIA Fiber Network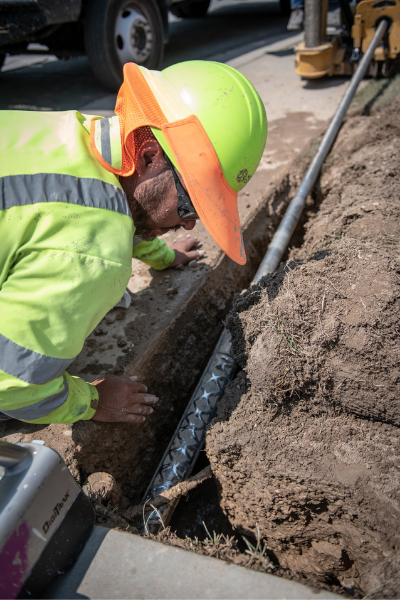 Murray, UTAH (January 5, 2021) – In the months leading up to the coronavirus pandemic, UTOPIA Fiber's subscriber base was growing rapidly. Utahns, thirsty for bandwidth, started gravitating in droves to fiber networks for their gigabit speeds and unlimited capacity. Then the pandemic hit, and subscribers and UTOPIA Fiber never looked back. UTOPIA, which is owned by a consortium of 11 Utah cities, has virtually doubled its customer base in the last few years and is adding new partner cities at a steady cadence. The phenomenal trajectory continues in 2022, as the network announced today that it is adding not one, but two fiber-to-the-home cities to its burgeoning network: Cedar Hills City in Utah County, and Santa Clara in Washington County. Notably, Santa Clara will mark UTOPIA Fiber's entry into southern Utah, a part of the state that's growing quickly and craving fiber service. The two projects with a combined approximate price tag of $12 million, mark UTOPIA Fiber's 18th and 19th fiber-to-the-home cities.
"It's a great day for all of us at UTOPIA Fiber and for the people of Cedar Hills and Santa Clara," said Roger Timmerman, Executive Director, UTOPIA Fiber. "We're really excited to continue our momentum in Utah County and to venture into southern Utah where Santa Clara will become the first all-fiber city in Washington County," added Timmerman.
It's been shown that the economic and community benefits of fiber networks are significant. According to a 2016 study by Broadband Communities Magazine, residential and commercial property values increase on average about 7-8% when served by a fiber network. Fiber networks also have the speed and capacity to move enormous amounts of data generated by Smart City applications, which save communities about 10% once deployed.
But for the residents of Cedar Hills and Santa Clara, they just want a better internet experience.
"One of the top issues we've been hearing from residents is poor broadband service," said Denise Andersen, Mayor, Cedar Hills City. "Bringing UTOPIA Fiber to our city will completely change the game," said the mayor.
Rick Rosenburg, Mayor, Santa Clara agreed: "As our area continues to grow, there is greater demand for speed and capacity and we needed a network that positions us for prosperity now and well into the future. We're glad to be the first UTOPIA Fiber city in Southern Utah to be able provide our residents and businesses the fastest speeds in the nation and their choice of ISP's.
With the addition of Cedar Hills and Santa Clara, UTOPIA Fiber will provide fiber-to-the-home services in 19 cities and business services in 50, connecting communities to the fastest speeds currently offered in the United States. The company also has operational partnerships in Idaho Falls, Idaho and Bozeman, Montana. In all UTOPIA Fiber cities, residential speeds are offered up to 10 Gigabits per second (Gbps), while business speeds reach 100 Gbps, both the fastest respective speeds available in the United States. UTOPIA Fiber is a publicly owned Interlocal Agency that operates as an Open Access network. This means that UTOPIA Fiber builds the infrastructure and enables competition among private sector internet service providers (ISPs) via UTOPIA's fiber lines.
UTOPIA Fiber's Open Access model protects a net-neutral internet without throttling, paid prioritization, or other provider interference. Participating cities can also benefit from various Smart City applications that are enabled by the UTOPIA Fiber network including an early wildfire detection system, fast public WiFi, air pollution monitoring services, and more.
"As UTOPIA Fiber grows larger, the cable industry is taking slings at our community-owned Open Access model. But the proof is in the pudding. We're operating in the black, we've achieved the highest customer scores among internet companies in Utah, and we're growing. The facts say it all: UTOPIA Fiber is the model for the industry and for communities that delivers time and time again, said Timmerman."
Service maps, build-out timelines, and information on how to sign up for UTOPIA Fiber services in Cedar Hills and Santa Clara will be posted soon at UTOPIAfiber.com.
About UTOPIA Fiber
Created by a group of Utah cities, the Utah Telecommunication Open Infrastructure Agency (UTOPIA) is a community-owned fiber optic network that uses the Open Access model to promote competition by giving customers the freedom to choose which telecommunication services they want from competing providers. With fiber availability to over 130,000 businesses and residences in over 50 communities, UTOPIA Fiber is the largest—and widely considered the most successful—Open Access network in the United States, and enjoys the industry's highest customer satisfaction scores. Since 2009, the agency has successfully designed, built, and operated nearly $350 million worth of fiber projects throughout Utah, all of which have been funded completely through subscriber revenue, at no cost to taxpayers.